Justin Hall led the Tuesday Morning Camp Flagpole devotion on Power – The below outline is how your campers started their Morning: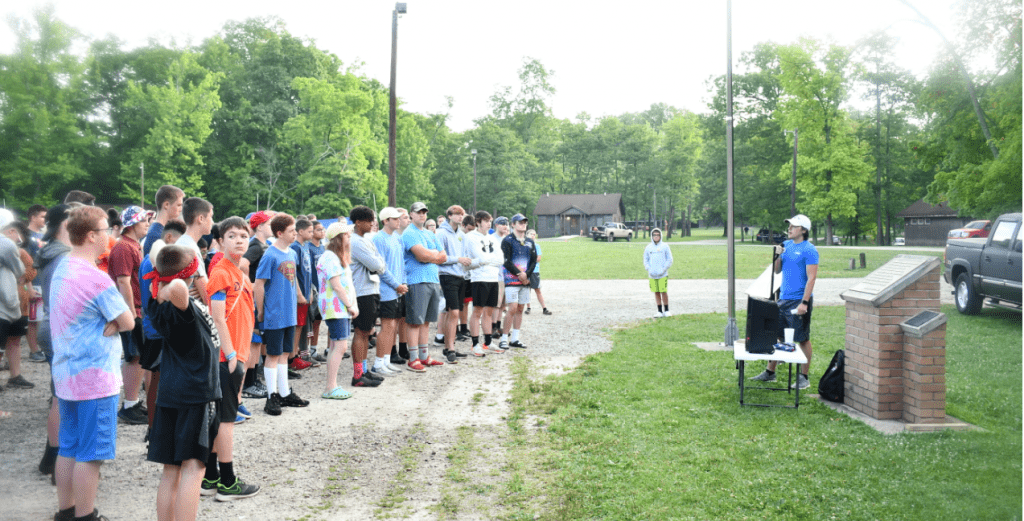 Being tiredThe theme of the day is Power. Where do we get our power when we are tired? Isa 40:28-31 – He gives power to the faint. Go to God when we are tired. Physically and spiritually. God is our spiritual gas station. 2 Thess – Don't grow weak/weary. Find power in God when we are stressed, anxious, tired, turn to God. Don't turn to other substances, nicotine, etc.
So in final thoughts, when we are weak where do we go? Our only true source of Power is God!
Other Activities and Goings On at camp today are as follows:
FOOD!!!!
Breakfast: Breakfast Burritos, fruit, cereal & Juice/milk/water
Lunch: Hamburgers, Potato Wedges, Salad Bar & Peanut Butter Bars for Dessert.
Dinner: BBQ Pork, Mac-N-Cheese, Salad Bar & Banana Pudding for Dessert.
ACTIVITIES:
Crafts, Bible Study, Ultimate Frisbee, Volleyball, Canoe Practice & Lip Synch Practice. Mid-week Bible study starts at 8:45 pm and Lights Out between 10:15 – 11 depending on Age Group.
Updates on Sports results from Monday:
Top 5 Team Finishers in Knock Out: Red, Hunter, Lime, Silver & Navy
Top 5 Team Finishers in Ultimate Frisbee: Gold, Hunter, Orange, Silver & Lime
Top 5 Team Finishers in Volleyball: Gold, Orange, Green, Silver & Navy