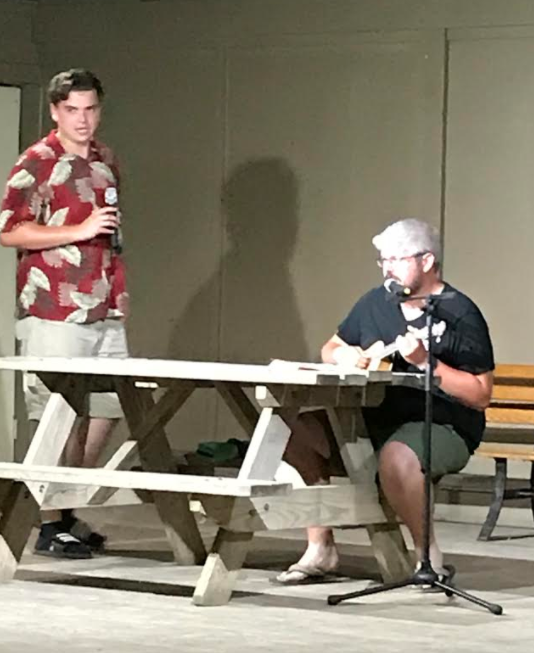 The talent displayed by your 2018 staff members was nothing short of Magnificent-less…
Derek Gould & Logan Grim kicked the evening off with their own version of "It's NOT my Birthday"  Happy Birthday, Derek Gould!
David McGaughey and his lovely assistant, Ethan Wildman dazzled the crowd with magic tricks straight out of America's got talent!
Paige Hawk, Levi Hawk & Ryan Walker took the crowd back in time with their Time Machine..Great Scott!
Katie Paden & Jessica McGaughey showed us how a Rope should be Jumped!
Nick Paden played 20 Questions with Todd Walker and yes, Todd…You CAN eat it, but we sure hope that you don't!
Our team of Compadres had some very "urgent" topics to discuss during their meeting…Especially Ryan "You are urgently needed in the mess hall" Walker.
Rhonda Hawk, Ryan Bacon & Shelley Elkins raised the roof and dropped the mic on MSC with their version of "All my friends are Campers" by 21 Pilots.
First year Team Captains Nick and Laura Hall were grilled with the top 20 actual questions asked by campers by veterans: Tammy Walker, Meagan Willis, Jessica Wildman and David & Katie Mathis.  WHAT TIME IS IT?????
Todd Walker & Corey Willis closed out the night with their own MSC version of the Beatles Classic "Imagine"….Woohoohooohooooooo
Website: https://www.midwestsummercamp.com Blog Signup: https://www.midwestsummercamp.com/blog Text Alerts: text "@msc4kids" to "81010" Email: allthingsmsc@gmail.com Facebook: https://www.facebook.com/msccamp Instagram: @allthingsmsc