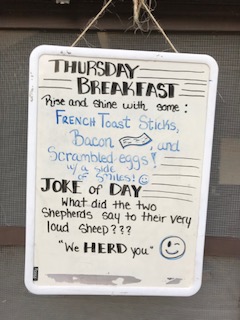 Good Morning from MSC! It's Lip Sync day and the excitement is already building!  Your campers have been working really hard this week perfecting their songs and routines – We are sure to have a fun show at 9 tonight!
What's for Breakfast, Belinda? French Toast Sticks, Bacon, Scrambled Eggs and Reeses Puffs Cereal. The Breakfast and Jokes around here are Free!
AJ Thomas from our Security Team lead the Flagpole devotion this morning with the focus being "Our Duty to Love"
Along with Lip Sync, Campers are participating in Bible Study, Singing, Softball, Deal or No Deal, Canoe Races & Projectile Avoidance.
We will continue to keep you updated throughout the day and will be posting the names and some pictures from last night's Talent Show.
Thanks to Tammy Walker for helping to wake up some sleepy campers this morning with some MSC Calisthenics!  GIMME an M….S….C!!!
Website: https://www.midwestsummercamp.com Blog Signup: https://www.midwestsummercamp.com/blog Text Alerts: text "@msc4kids" to "81010" Email: allthingsmsc@gmail.com Facebook: https://www.facebook.com/msccamp Instagram: @allthingsmsc