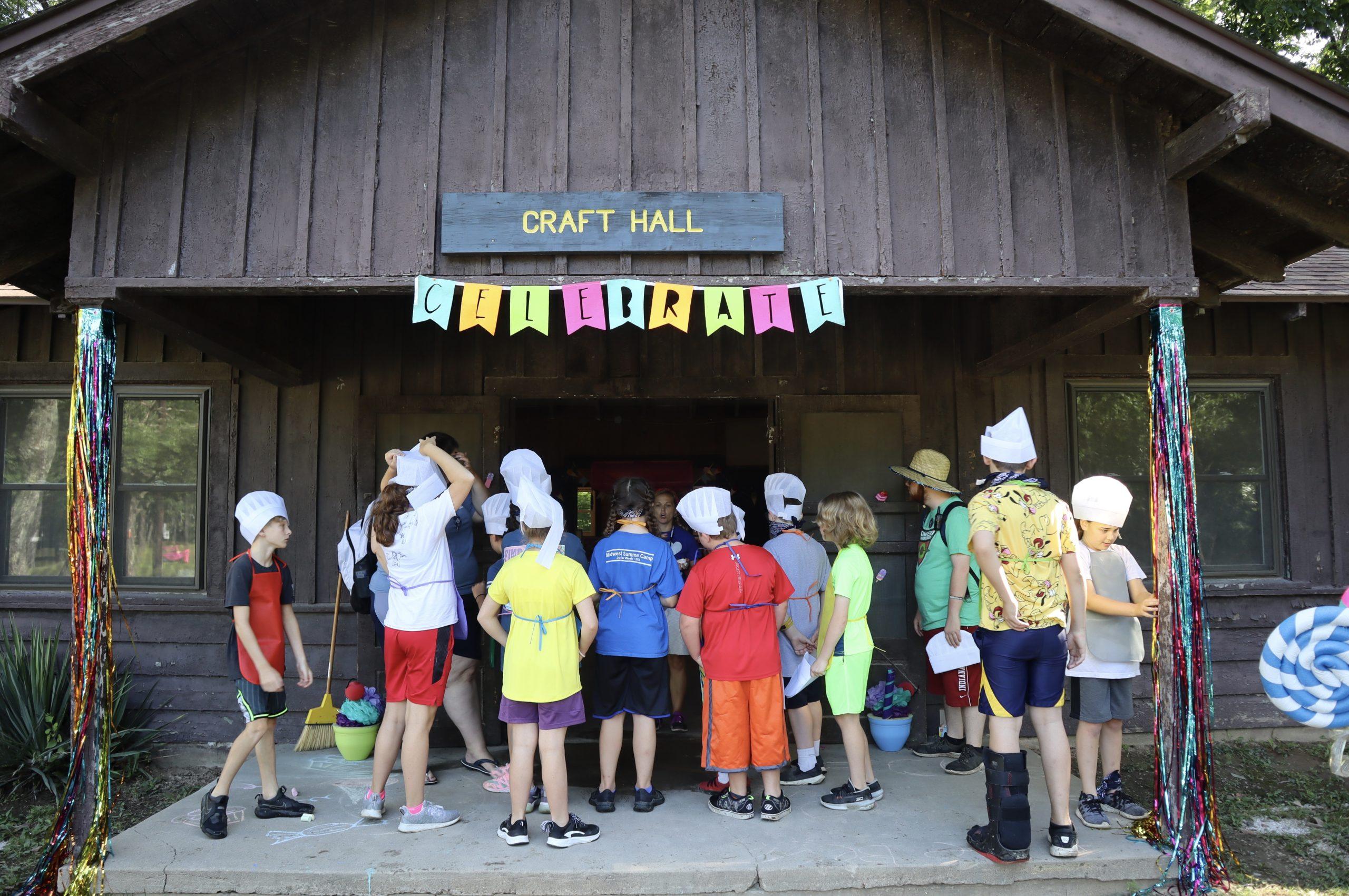 Welcome to MSC Junior Camp, 2023. Staff arrived on Saturday to prepare for our Junior Week campers as Senior Week moved out. Meetings were had, streamers were thrown, posters were hung, lights were taped, spray paint was spray painted. The anticipation of campers arriving always makes campground setup fly by for our staff!
Camper registration started at 2pm on Sunday afternoon. As campers arrived, they grabbed their buttons from the Mess Hall and headed to their cabins where they were able to choose a bunk and meet their cabin counselors. Seeing so many friends being reunited after a long year apart is beautiful, but possibly even more so is seeing campers meet new people and make new friends even during arrival on our first day.
At 4:30, all campers and staff assembled in the Mess Hall to kick off camp with a worship service. Nathan Lynd gave everyone a beautiful message from the Old Testament about David and Jonathan's deep friendship, fitting right in with our theme for the week- Iron Sharpens Iron. Seth McCauley led our songs for the evening- it is always a sweet moment to hear everyone's voices coming together for the first time, old and young.
After our worship service, campers headed to the Amphitheater for review of the rules, skits from our lovely Compadres, and team captain introductions. With 10 teams and 20 team captains, our staff leave no room for camper boredom with full costumes, intro songs, and an abundance of candy-chucking.
Once all team captains were introduced, campers gathered with their teams for the first time to meet each other, play ice-breaker games, learn cheers, and gather their supplies for the week (water bottles, bandanas, bracelets… you name it, we got it). This established early connections between teammates that they will share competition and new memories with for the rest of the week!
When team meetings were finished, everyone headed to the Mess Hall for dinner. Our kitchen staff for the week receives high praise from campers and counselors alike. Kitchen staff is headed by Rolanda Boggs followed by her team: Dawn Bewley, Hannah Edwards, Amber Jimerson, Tanner McReynolds, Beverly Watson, Gretchen Carlson, JC Edwards, Matt Judy, and Dana Shaffer. Tonight they served grilled chicken, potatoes, green beans, and a toppings-loaded salad bar!
After dinner, all teams reunited on the sports field for their first team events of the week. Campers completed relays with their team and practiced communicating with one another and cheering on their teammates when they weren't doing an activity. We saw many great examples of beautiful sportsmanship on the field which made a great start to our week! To finish the competition, campers and counselors competed against one another in tug-of-war. Campers got to face off with Compadres, Team Captains, etc. and brought out their best game faces to intimidate their competitors.
To wrap up the day, campers returned to their cabins for a cabin devotional followed by time to play games, take showers, and get to know their new friends before lights out.
It was a wonderful first day! We are so thankful you're following along with us during this week. Don't forget to check our social media pages for updates, fun videos, and more pictures from the week. We are so excited to grow spiritually together while having wholesome fun and making lifelong friends!
Check out the Instagram for pictures! https://www.instagram.com/allthingsmsc/